There are a million different websites on the internet. None of these websites are the same. This means that all of these websites have different hosting requirements. To find the perfect host for your website, you need to ask yourself a couple of questions and consider the following aspects:
Traffic: how much daily and monthly traffic will my website generate? Some hosting plans are optimized for traffic heavy websites but for some websites this extra cost isn't necessary.
Framework: will you be using a framework on your website such as a content management system (WordPress, Joomla, Magento…)? There are hosting providers who are specialized in these type of services, such as WordPress hosting or Joomla hosting.
Hosting type: which web hosting plan are you going to use? Do you need shared, VPS, Cloud hosting or a dedicated server?
Each hosting product is designed for a specific purpose. Because there are so many alternatives it might be hard to find a hosting plan that suits your requirements. HostUCan developed a hosting relevancy tool that can help you pick the perfect hosting plan.
Hosting Relevancy Tool
The hosting relevancy tool of HostUCan is designed to help people find out if a web hosting solution is compatible with their website. During analysis, the tool will aggregate customer reviews, product uptime data, and editor reviews to generate a score indicating how appropriate the hosting plan is for your requirements. If the web host or plan is designated as unsuitable, alternatives will be offered. Here's an example of how you can use the hosting relevancy tool:
What do we need?
Let's say we have a small website running Joomla with no more than 300 visitors. We want to see if the InMotionHosting basic pack is suitable for our website. This pack offers us 150GB of disk space and a monthly transfer of 1500GB.

The result
The result of our hosting relevancy test tells us that the InMotionHosting basic pack is suitable for our small website. Before our purchase we can read a InMotionHosting review to see what other users think about this host. These reviews can help us to decide wether or not to purchase this hosting plan.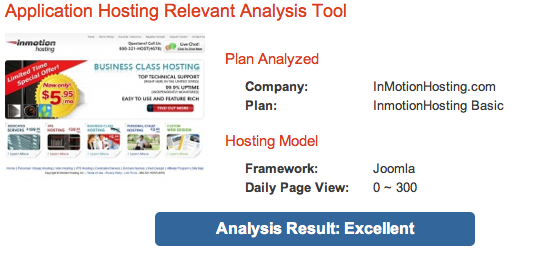 But what if…
… our website became so popular that our daily page views jump from 300 to 800? If we use the hosting relevance tool once more we can see that our previous hosting plan isn't suitable anymore. The tool suggest that Hostgator's hosting plan will better suit our website's requirements. A Hostgator review confirms this.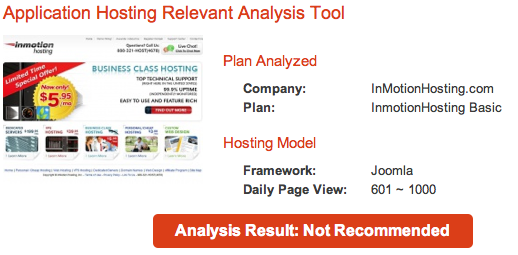 Conclusion
Web hosting requirements can change really fast. A web hosting plan that was suitable last year might not meet our requirements today. Slow loading times, low reliability and high costs can force you to reconsider your web hosting. The hosting relevancy tool we reviewed can help you decide wether or not to switch hosts and which host to choose.