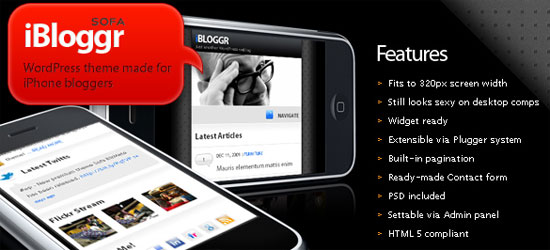 This theme fits perfectly to 320px screens. This WordPress theme is widget ready so you can add your Twitter and Flickr feed if you want. iBloggr also comes with a built-in Plugger system and almost everything can be controlled from the theme options page. And you can customize the design because the PSD file is included.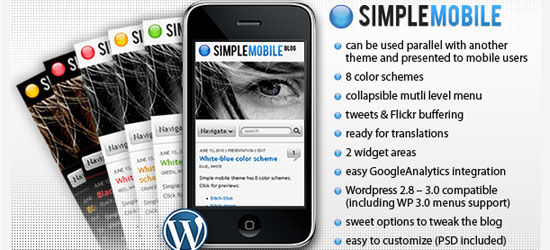 Simple Mobile is a WordPress theme designed for mobile devices. This theme comes with Twitter integration and you can add a Flickr photostream. If you don't like the standard color scheme, you can always switch to one of the seven other color schemes. Google Analystics integration is also possible.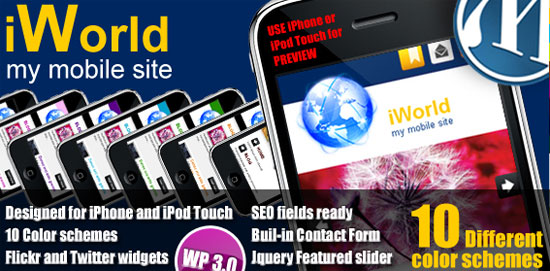 iWorld is a WordPress theme designed exclusively for iPhone and iPod Touch. This theme comes with 10 different color schemes and if that isn't enough, you can start editing the PSD template. Just as the previous themes, this one also has Twitter and Flickr integration. It also has a built-in contact form.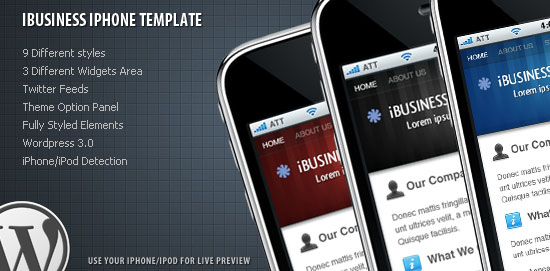 iBusiness is a mobile WordPress theme designed for iPhone and iPod. It has three different widget areas and three different page templates. Furthermore, it comes with 9 different color schemes and PSD templates.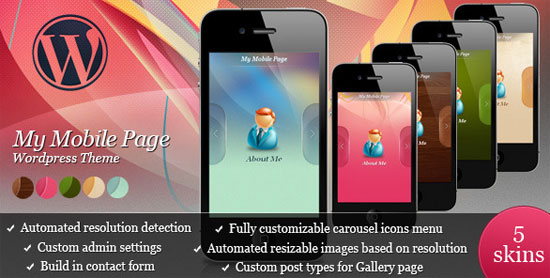 Personally, I think this is one of the better looking mobile WordPress themes out there. This theme can be used for personal mobile pages, web designers mobile pages, artists mobile pages and many other. This WordPress theme uses automatic resolution detection so you can use it for small screen resolutions and bigger resolutions. You can choose between five different skins.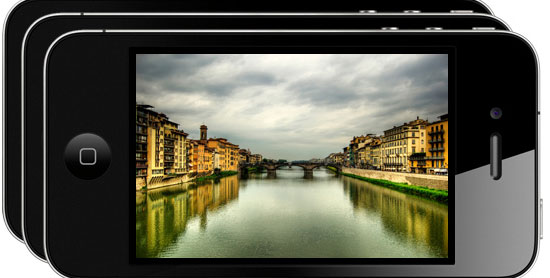 iFolios is a WordPress theme that is perfect for a mobile photography website. It detects all of the most popular handheld devices and automatically redirects to your mobile-friendly website. iFolios also comes with dynamic image scaling, so your photos will look perfect on every mobile device.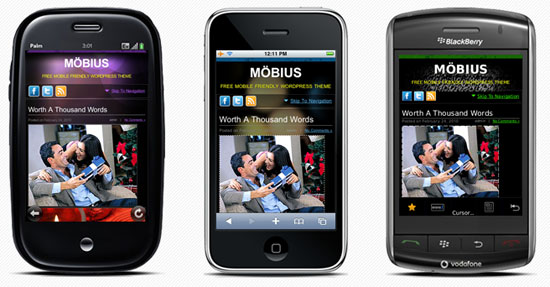 Möbius is a free mobile WordPress theme that's compatible with most touchscreen phones and all the popular desktop browsers. It comes with three different skins and it's widget ready.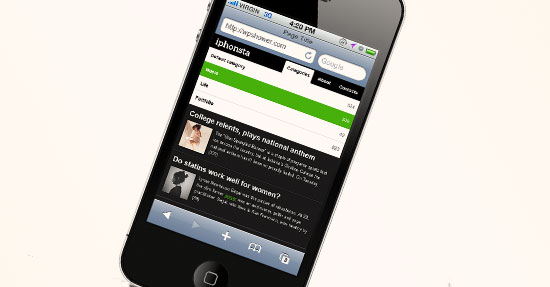 iPhonsta Theme is an exclusive free premium wordpress theme made for iPhone but it also looks great on other mobile phones. This theme has a fluid layout so it fits the screen and configures font size automatically.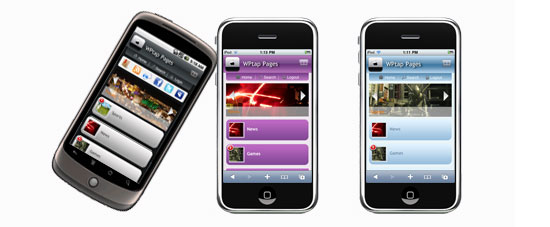 WPtap is a WordPress plugin/themes pack for iPhone, iPod Touch, Android and Blackberry. It comes complete with all the standard WordPress blog features: search, login, categories, tags, archives, photos & more. WPtap also offers many customization features.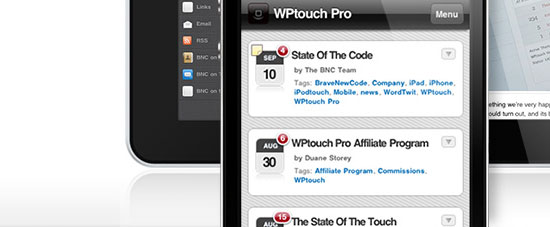 With this plugin you can create a mobile website with just a few clicks. You can use it for iPhone, iPad, Android, Blackberry and Palm. The pro version comes with 200+ extra features.