Simplicity is the key to this amazing desk setup. Equipment has been scaled down and additional hardware and wires have been hidden from view, a great idea for those of you who live in a small(ish) dwelling. Rather than have an ugly whiteboard on display, the owner of this office writes with dry erase markers on the glass windows.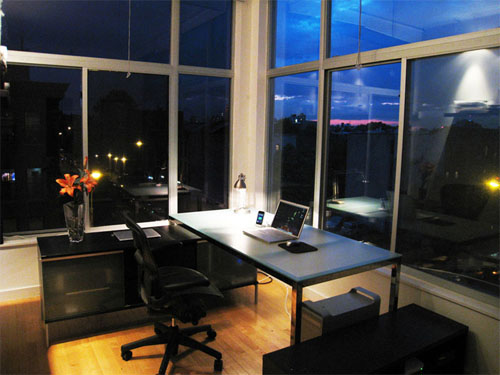 Computer:
Accessories
G5 server
Dual Core 2.8GHz HP Proliant server running Ubuntu (hidden)
Canon All-In-One printer/scanner/copier (hidden inside sliding glass door cabinet)
Aeron chair
Tinted side windows
MacBook Air
iPhone
Airport Extreme Dual Band Base Station with 2 external 1TB hard drives
A little over the top, but highly impressive nonetheless, this is the dream office setup for any computer geek. It's important to note that the office has been really well planned, with photographs in thick black frames on the walls mirroring the four-monitor setup below.

Displays:
LG Flatron W2452T 24″ LCD @ 1920×1200 (3)
Viewsonic VA912b 19″ LCD
Accessories
2GB Radeon HD 4850 (2) driving 4 DVI ports
Das Ultimate II Keyboard with blank keys
Sennheiser HD 280 Pro headphones
Logitech G5 Rusted mouse on a Razer eXactMat mouse-mat
Seraphim Bigtower
IKEA GALANT desk
Perhaps the most stylish office setup in this list, its owner has gone for style over substance with only the bare minimum of computer equipment on show. I don't doubt, however, that this equipment is more than sufficient to satisfy its owner's needs. Makes you wander if having nine screens is really necessary!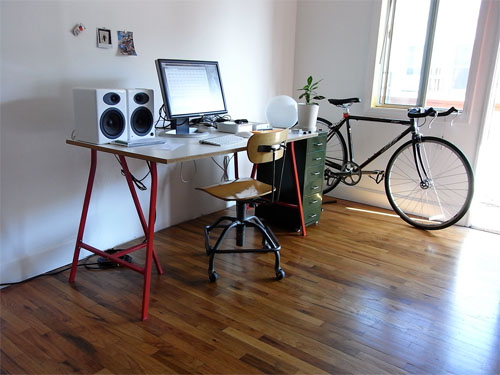 Computer:
Display:
Accessories
Audioengine A5 Bookshelf speakers
Apple wireless keyboard
OWC external hard drive
SE Lager singlespeed bike, complete with bullhorns
IKEA Vika Lerberg trestles
4. Mac Setup (Crouching Donkey)
This setup is perfectly balanced. While some setups with this much kit look oppressive, this one looks rather inviting. It's the little touches like the Anglepoise lamp, the pot of classic pencils and the stainless steel card holder which make this workstation so attractive.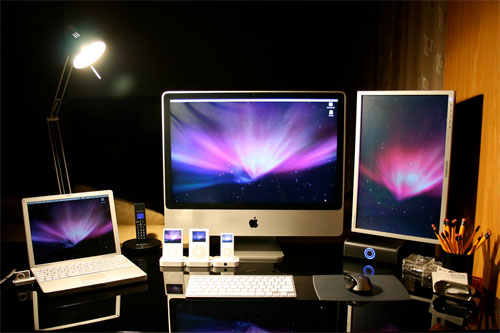 Computers:
Apple 24″ 2.8GHz Intel Core 2 Extreme iMac
Apple PowerBook
Display:
Samsung SyncMaster 940BW monitor
Accessories
Logitech VX Revolution mouse
Apple wireless keyboard
WD MyBook 500GB external hard drive
iPod Shuffle 1GB
iPod Nano 4GB
iPod Photo 40GB
iPod 80GB
Motorola E8080 Cordless DECT Phone
This setup is brilliantly self-contained. Open up the cabinet's middle draw, which houses the keyboard and mouse, and it instantly comes to life, becoming a workstation fit for any professional.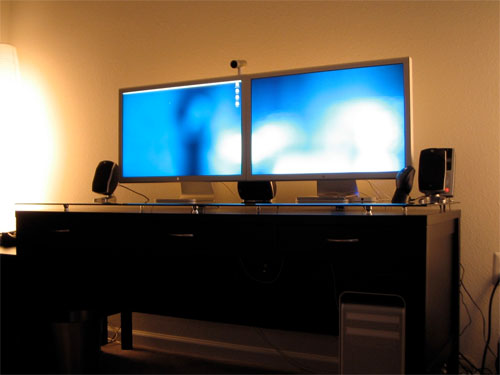 Computer:
Apple Mac Pro (Dual Quad-Core 3.0GHz Xeons, 16GB RAM, 4x500GB Samsung SpinPoint HDDs, Radeon X1900 XT)
Displays:
2 x Apple Cinema Displays 30"
Accessories
Apple aluminum keyboard
Logitech VX Revolution mouse
Wacom tablet
Logitech Z-5500 speakers
iSight
It's hard to assemble a setup with this much hardware and keep it serene. The owner of this setup has prioritized good lighting, which can make any workspace appear peaceful and calm.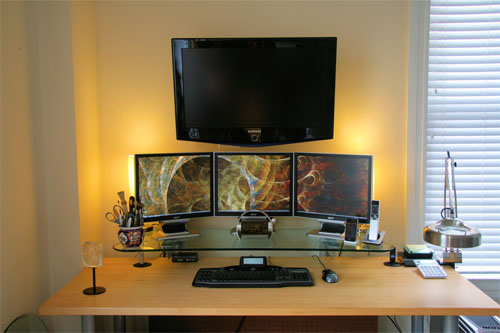 Displays:
Acer AL1951 19" (3)
Samsung LCD TV 1080p
Accessories
iPhone
Linksys Wireless N USB Adapter
vTech Phone with Bluetooth
Logitech Mx518 mouse
Logitech G15 keyboard
Creative THX Control
IronKey Encrypted USB Thumbdrive
Belkin Desk Hub
This is a highly sophisticated office setup befitting of its classy photographer owner. Most people play it safe when it comes to designing their home offices, going for whites, blacks and not much else. It's great to see a more daring palette now and again.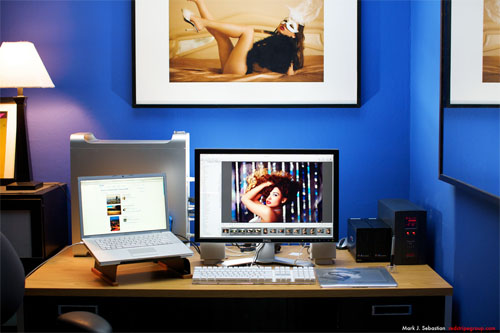 There's very little information available about the hardware used in this setup, but that's not what's important here. It's all about the view over Cincinnati, with the illuminated Carew Tower standing proud on the horizon. Who could fail to be inspired by that?